Ministries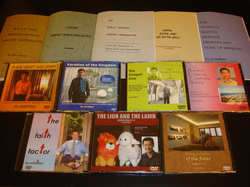 WORLD HARVEST GOSPEL OUTREACH CENTRE
www.whgoc.com
As an extension of
Jonathan Ministries
, World Harvest Gospel Outreach Centre is the channel and command hub for equipping believers and evangelizing the world with the Gospel of Jesus Christ. With facility and equipment to produce mass communication ministry programs and multi-media resources by means of the Internet, CDs, DVDs and books, the Great Commission is being carried out to reach lost and hurting souls.
The focus of this ministry is based on the following Scriptures:
WORLD
"For God so loved the
world
, that he gave his only begotten Son, that whosoever believeth in him should not perish, but have everlasting life" (John 3:16).
"And he said unto them, Go ye into all the
world
, and preach the
gospel
to every creature" (Mark 16:15).
HARVEST
"Then saith he unto his disciples, The harvest truly is plenteous, but the labourers are few; Pray ye therefore the Lord of the harvest, that he will send forth labourers into his harvest" (Matthew 9:37-38).
" ...Lift up your eyes, and look on the fields; for they are white already to harvest" (John 4:35).
"They that sow in tears shall reap in joy" (Psalm 126:5).

GOSPEL
"And this gospel of the kingdom shall be preached in all the world for a witness unto all nations; and then shall the end come" (Matthew 24:14).
"The Spirit of the Lord is upon me, because he hath anointed me to preach the gospel to the poor; he hath sent me to heal the brokenhearted, to preach deliverance to the captives, and recovering of sight to the blind, to set at liberty them that are bruised, To preach the acceptable year of the Lord" (Luke 4:18-19).

OUTREACH
"Ask of me, and I shall give thee the heathen for thine inheritance, and the uttermost parts of the earth for thy possession" (Psalm 2:8).
"But ye shall receive power, after that the Holy Ghost is come upon you: and ye shall be witnesses unto me both in Jerusalem, and in all Judaea, and in Samaria, and unto the uttermost part of the earth" (Acts 1:8).
---